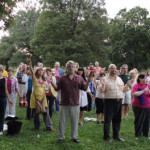 Summer Solstice Ceremonial Gathering with Cindy Riggs
Summer Solstice Ceremonial Gathering at the Great Circle Mound/Great Circle Earthworks, 455 Hebron Rd, Newark, OH 43055. Free (Please allow about 10 minutes to walk to the "Eagle Mound" in the center of the circle.)*
We honor the Earth and celebrate the summer solstice, and capitalize on the "longest day of the year" – or the day with the most sunlight – to absorb both the visible and invisible Light! (Solstice occurs 6/21/22 at 10:57 AM EDT.)
Also known as Litha (from ancient times), it is a day of inner power and brightness, when the ancients/Pagans would find a quiet spot and meditate about the light and dark forces in their world, and also gather outside for celebration.
Ceremony will begin promptly at 11:00 AM. Cindy will channel messages from Spirit.
You may bring a blanket or folding lawn chair if you wish to find a quiet spot to meditate following the ceremony, or if standing is a challenge.
*Rain or shine (with the exception of excessive rain or the threat of a lightening strike).